I suppose I'm still procrastinating on carving the seat for my shave horse, but it's productive at least.
There are a number of specialized tools required for chair making, and I've purchased them over the course of the last year or so. Most of them came new but I did purchase a couple of spokeshaves used. And those spokeshaves needed considerable tuning. I also had some hand plane irons and chisels that needed sharpening, as well as a couple of hand planes whose soles needed fettling (flattening the bottom).
So I started using the sharpening cabinet in earnest this weekend. I spent quite a few hours tuning up and sharpening things. I ended up punting on fettling the plane bottoms, as they are 'extra' planes I plan to tune up for specialized jobs, and after about half an hour on one I decided I didn't want to take a bunch of time on them this weekend.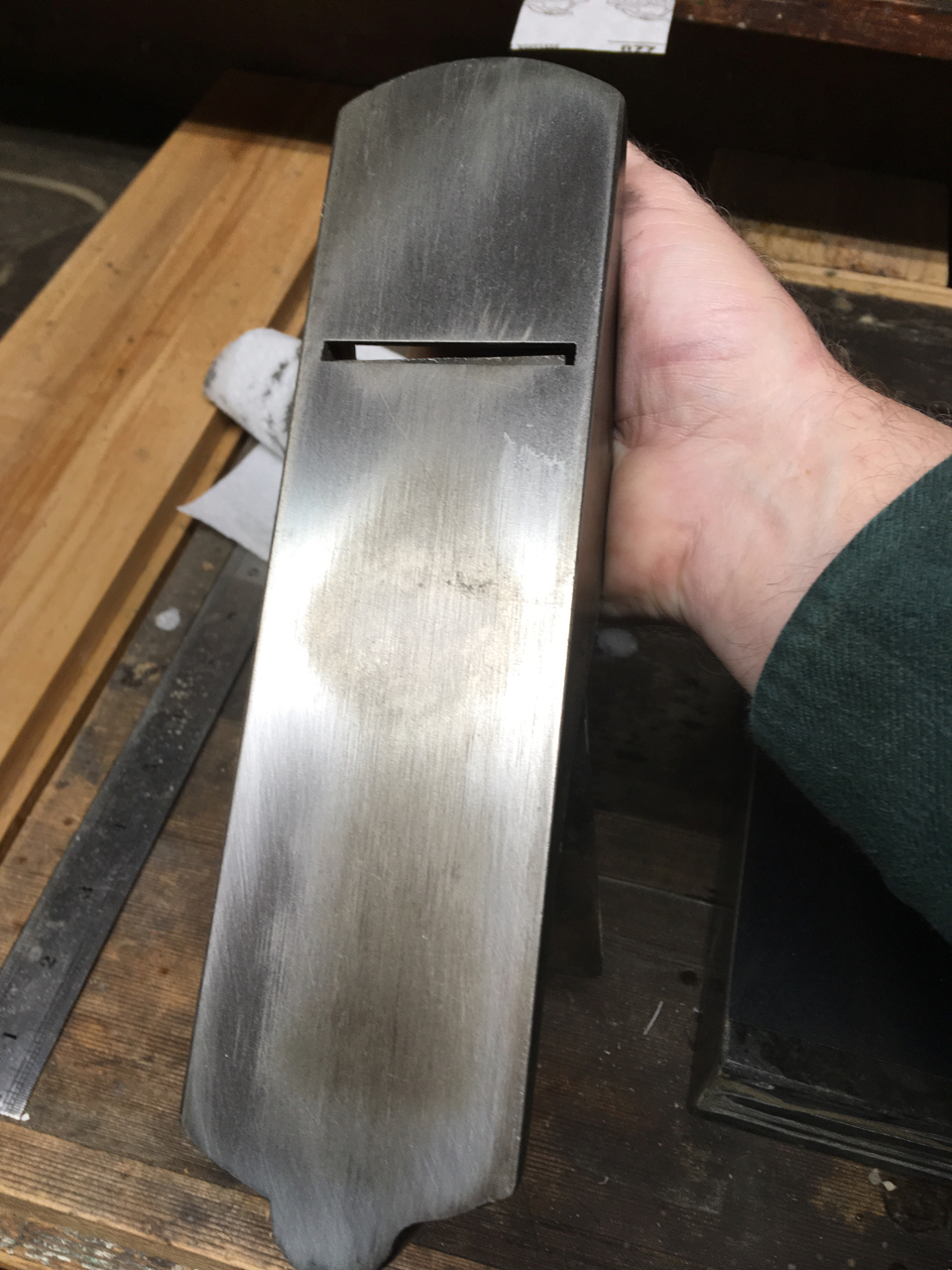 Partially fettled plane sole
I'll come back to them in a week or two.
I touched up the edges on a number of hand plane blades, which didn't take very long and let me fine tune the arrangement of items in the sharpening cabient. Then I started in on the spokeshaves and chisels. The spokeshaves turned out to need considerable work. This meant flattening their sole, flattening the cap iron on the one that has a cap iron, flattening the back of the blade, and grinding and sharpening the edge of the blades.
A couple of larger chisels needed moderate tune-ups: I hadn't properly flattened their backs when I first got them years ago and as a result their performance was hit-and-miss. Because they are wide chisels (2" and 1 1/2"), it takes a while to flatten the back. I also ground a new bevel and went through the grits of waterstones there as well.
Two chisels were major projects. One is a high quality old Stanley chisel I had never tuned up because the back was 'dubbed over' so badly. With a chisel, you want the back totally flat, as it and bevel form the cutting edge. In the case of this chisel, someone wore/ground down the back corners pretty badly.
Ideal chisel geometry (top) versus my chisel (bottom)
If you look closely, you can see the problems on the back corners.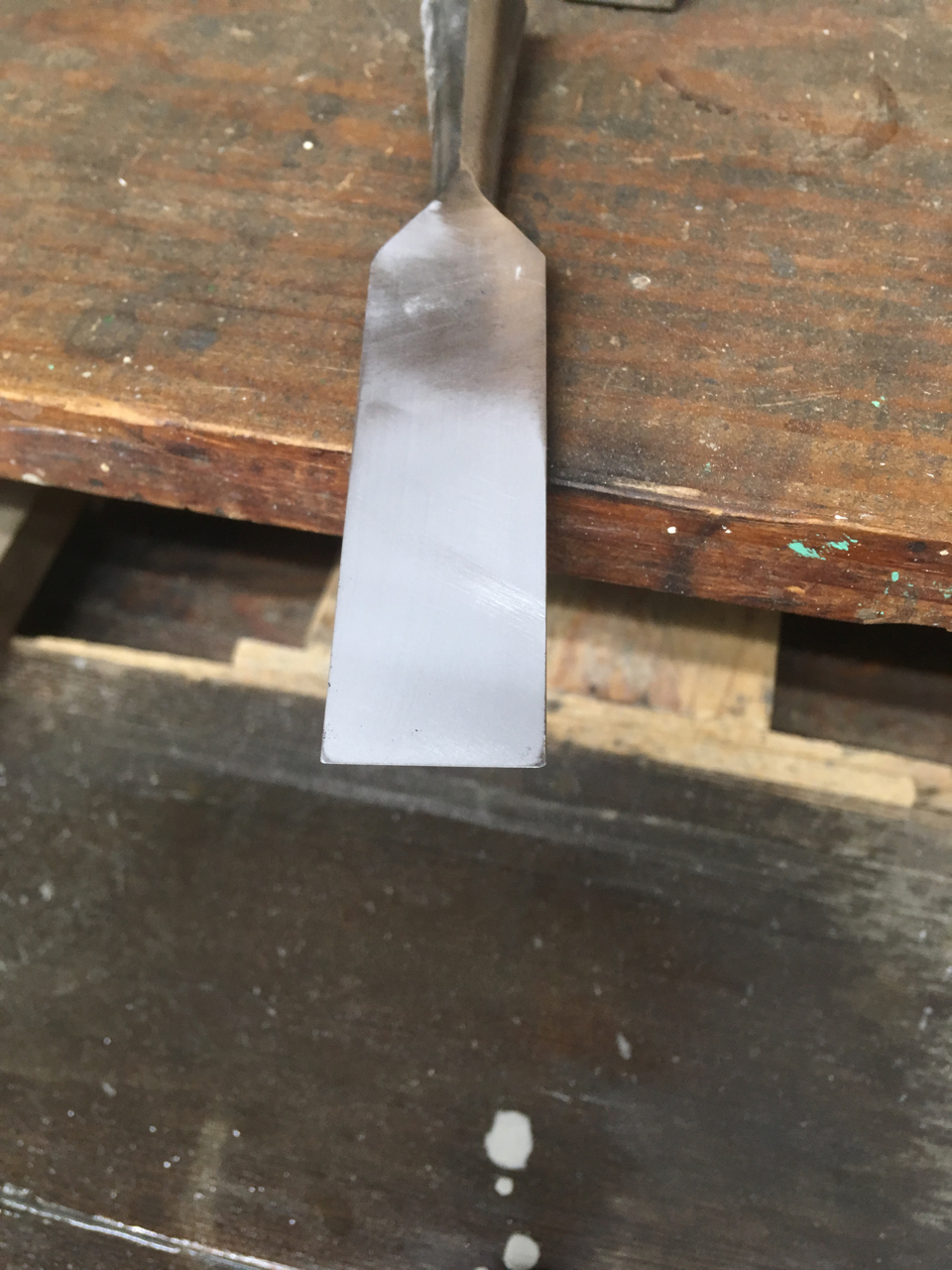 Back of the chisel
So I had to reflatten the back and grind the bevel back a ways to get things back to flat, which took a while.
The other chisel is one of my 'beater' chisels. They are inexpensive Stanely chisels with plastic handles and metal ends, which I use for rough work (rightmost in the picture below). So, the back and the edge were pretty beat up and in need of significant work.
Happily, these are done and I can move on to other things.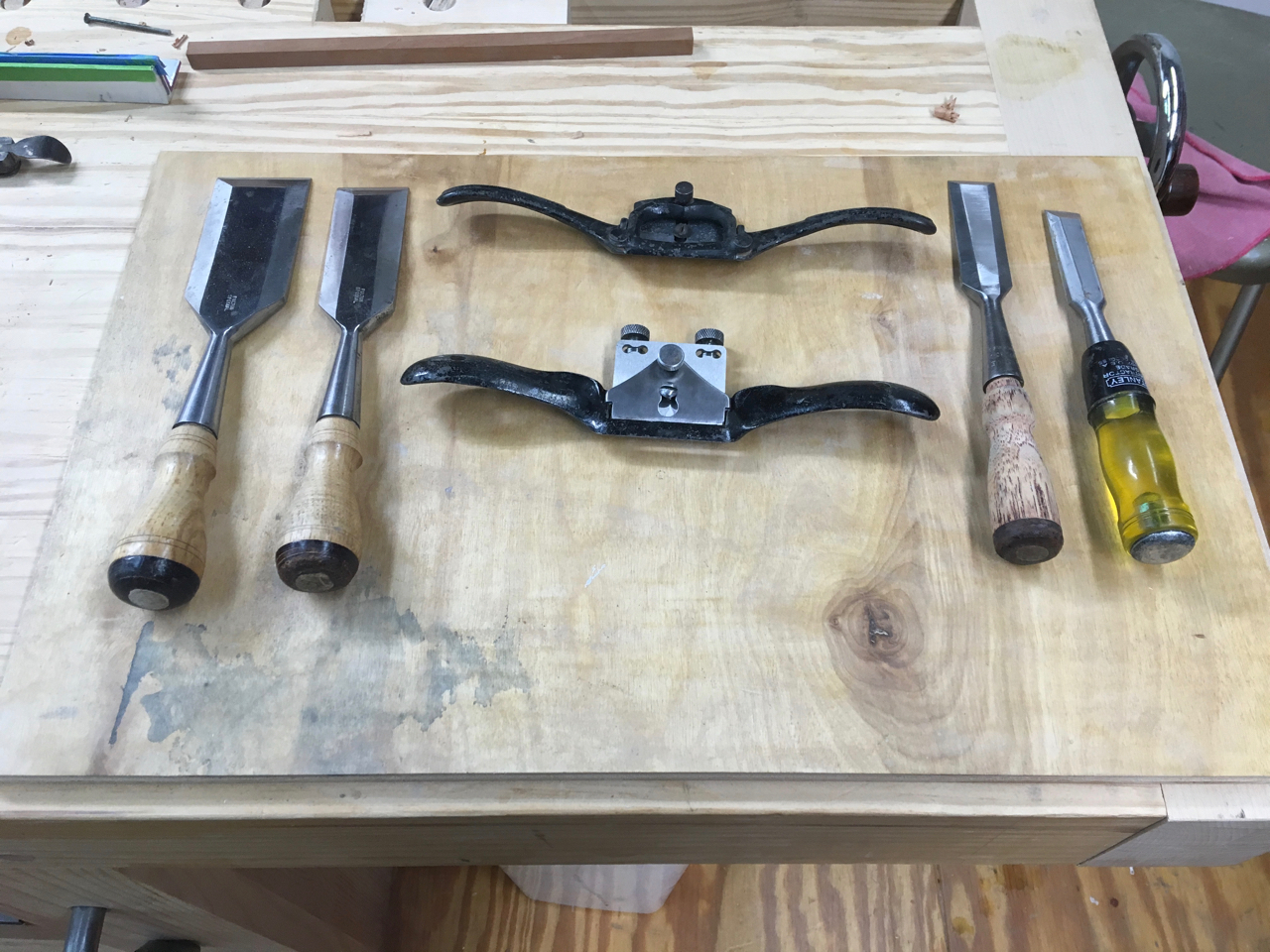 Some tuned up tools