I'll post soon about a side excursion I'm taking in bowl carving, thanks to some great classes taught by David Fisher and Elia Bizzarri. I've been taking online classes from Elia for a while; he's a great guy, and he makes beautiful chairs. David is also a great guy and a wonderful communicator who shares his deep knowledge of the craft well. While taking the second of three classes in the bowl carving series, David showed how a low bench helps when working on a bowl blank. If you aren't familiar with David and his work, you owe it to yourself to go check it out: https://davidffisher.com
This is David's 'lowrider':
[David Fisher's 'lowrider' (Image © David Fisher)](https://davidffisher.com/2017/01/22/lowrider/)
The evening after that second class it suddenly hit me that I had the perfect thing for building my own 'lowrider'. Last Fall, I connected with a homeowner who had a huge Osage Orange tree come down in his yard. Kindly, the owner was looking to give away as much as he could, since it was destined to be taken away by whoever he hired to remove the fallen tree.
The tree was massive. The trunk must have been at least six feet in diameter, perhaps seven. I could only take what would fit in the back of my Subaru, so I cut a couple of chunks and brought them home. I built a froe club from part of one section, which has worked well: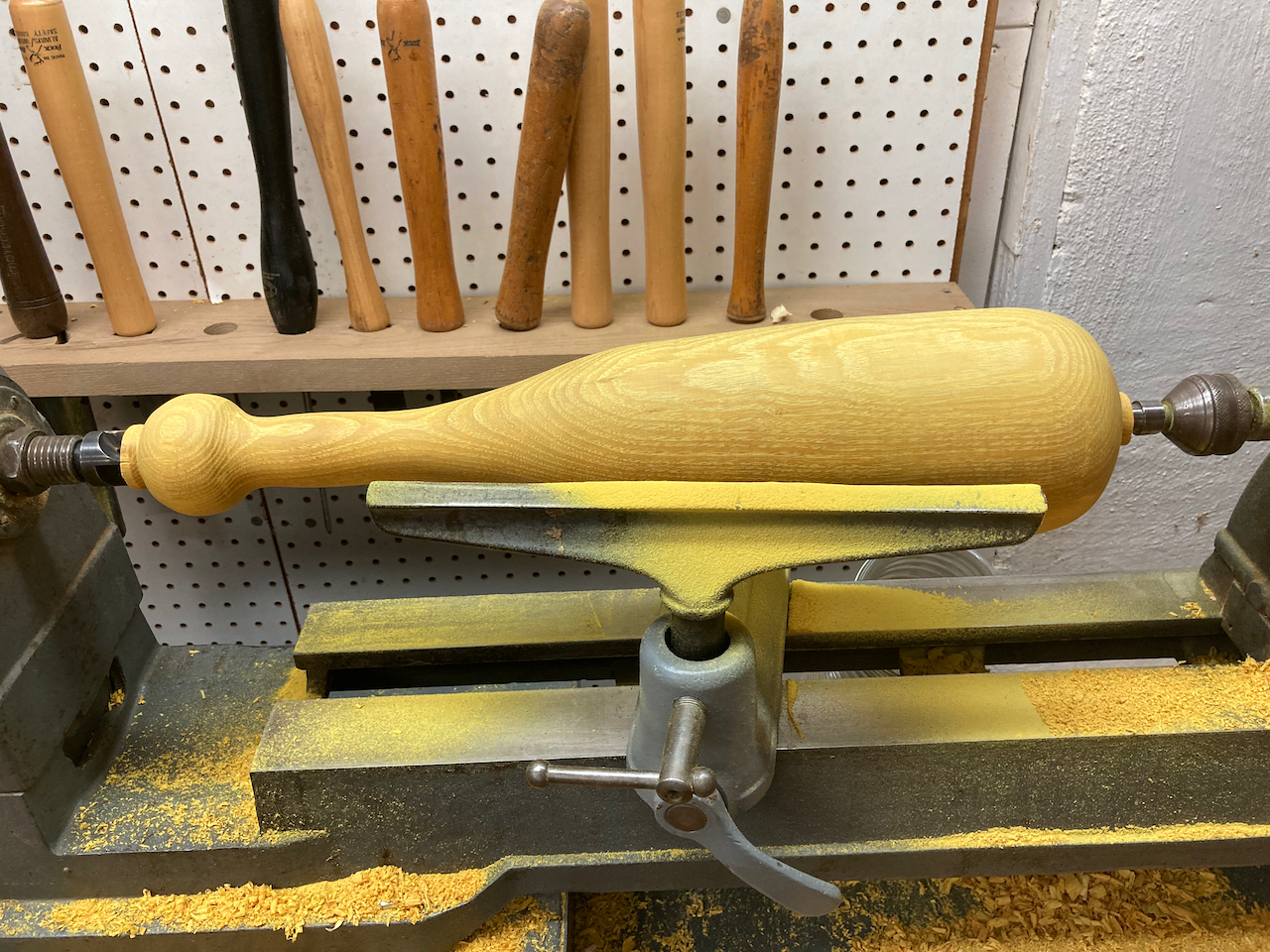 Quite the persuader, made from a section of Osage Orange wood
I had another large section of tree I'd brought home, with sealed ends and protected from rain. It had a wound on one side from some previous event, perhaps a lightning strike. With help from my friend James, I brought it down to the driveway and started thinking about how to make a slab out of it for a low bench. The wound isn't visible while sitting on the hand truck because it's on the bottom.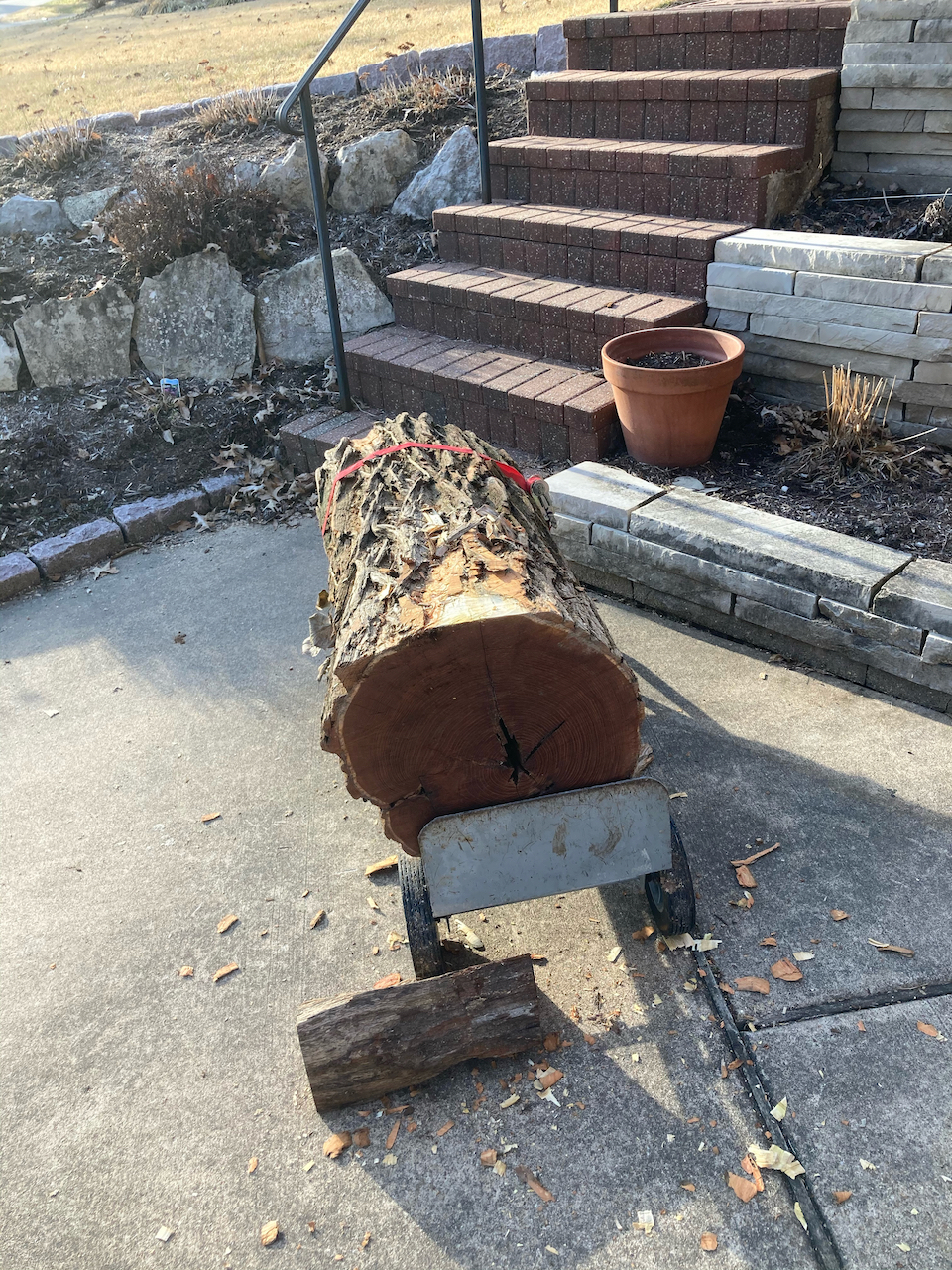 Osage section on a hand truck
Today, James was kind enough to come over and help me cut a slab out of the the section with a chainsaw. It took a while and I'm glad I could relax my shoulders once I got further into the cuts.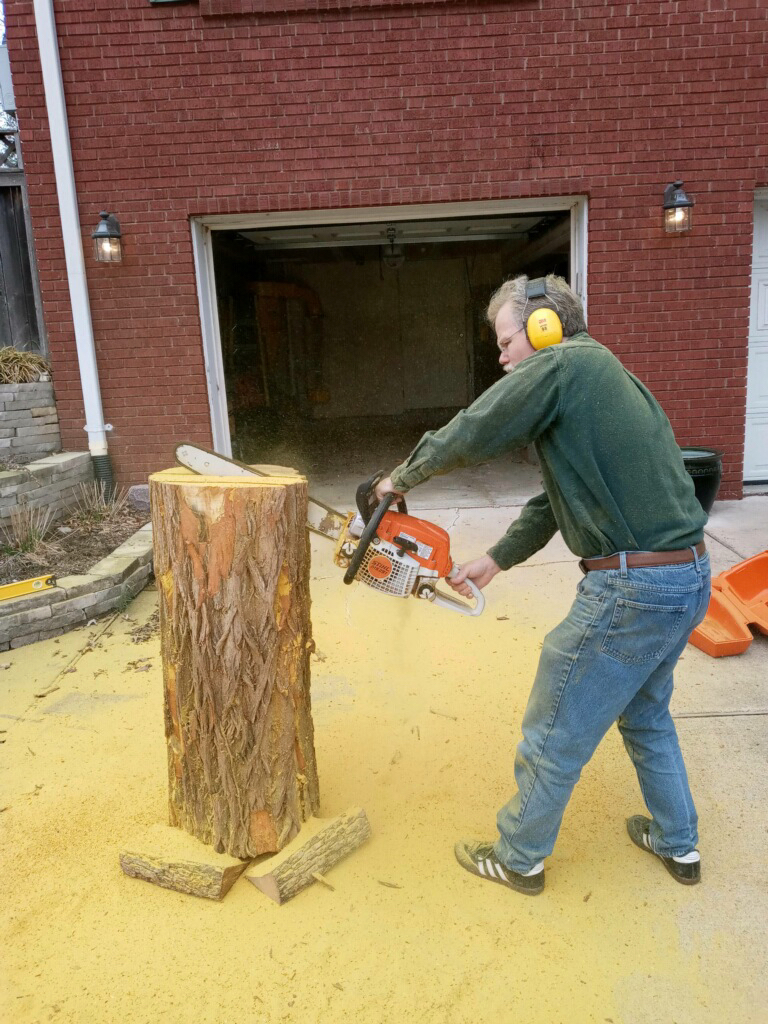 Cutting a slab from the log section
Osage orange is such an amazing wood. Bright yellow when freshly cut, it ages to a darkish orange color over time. And it's dense and tough. Should make a great low bench. I ended up with a bit of a bow in the cut, but we'd left extra on either side to allow for it. The slab section is the one closest to James. The remainder will likely become the legs for the low bench.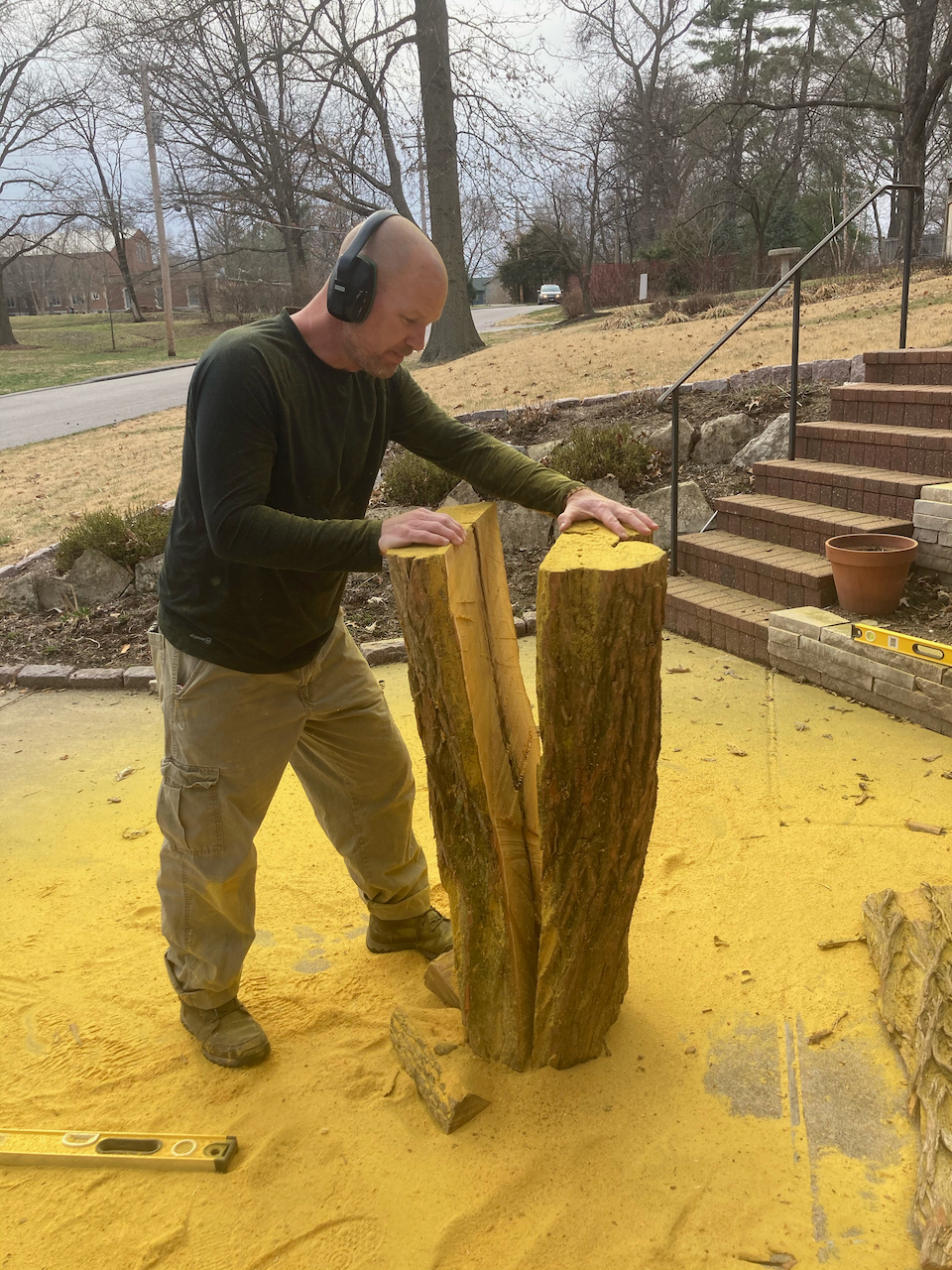 Slab section freshly cut
Back when I flattened the slabs while building the study I made a large fixture to do the flattening.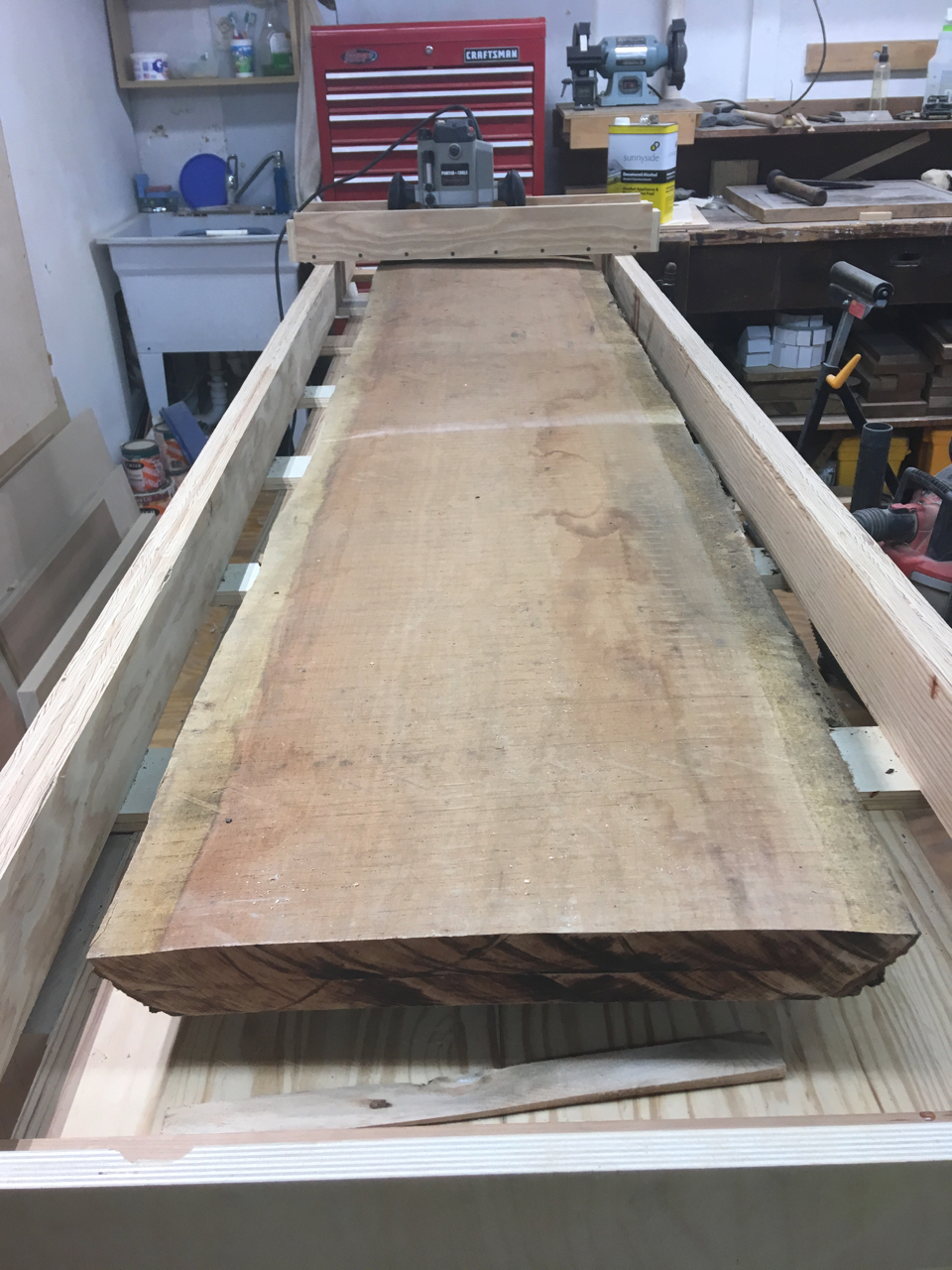 Flattening the slab for the window seat in the study back in 2018
When that project was over, I saved the router sled and a couple of side rails from the fixture. I pulled them out, glad I'd saved them.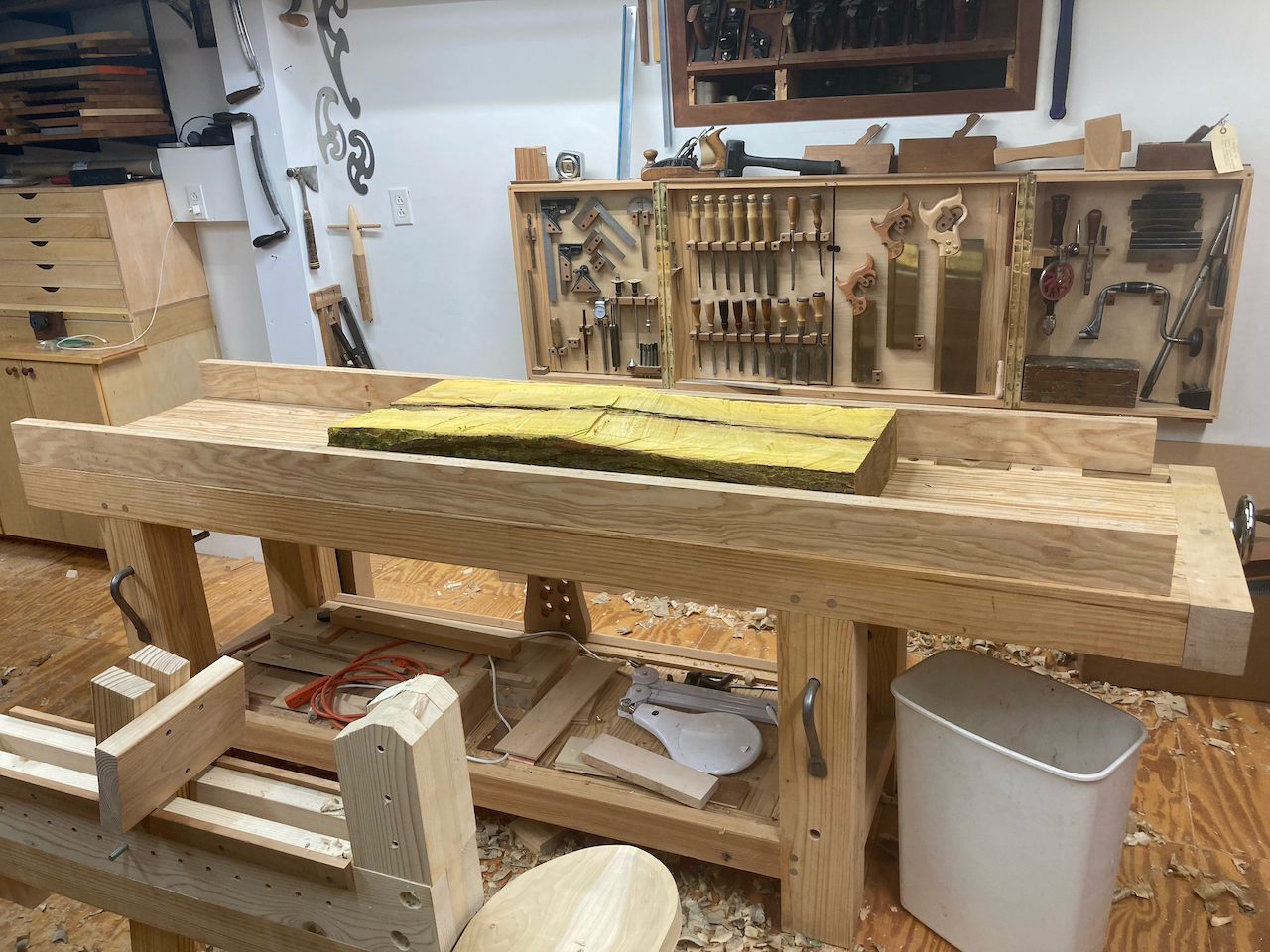 Setting up to flatten the slab
It was only a few minutes to make some blocks to elevate the rails and clamp things in place. With the router sled on top, I was ready to start flattening.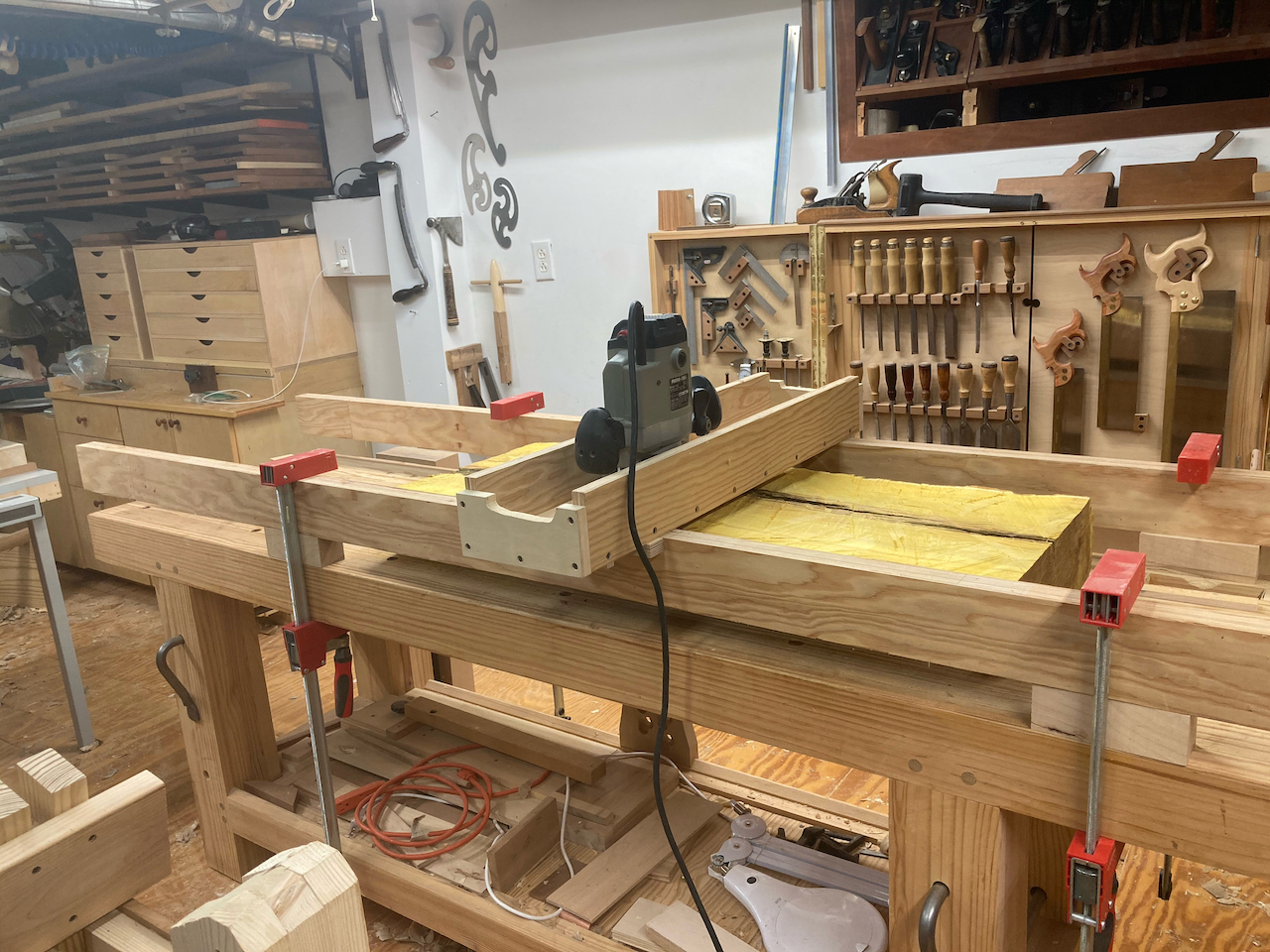 Ready to start flattening
I donned a face mask and hearing protection, and with Dire Straits in my earbuds I soon had the first side mostly flat.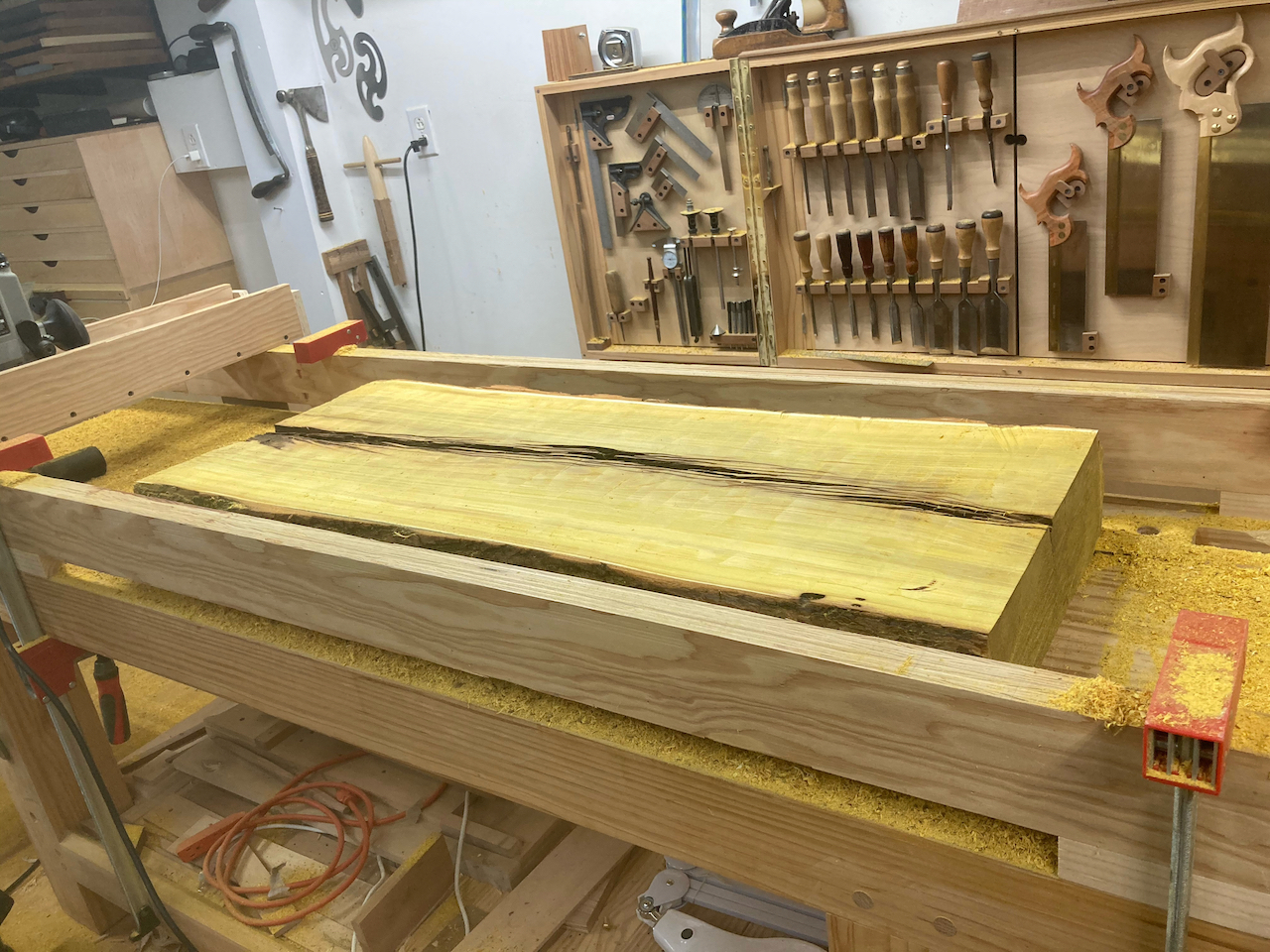 Nearly flat
There were a couple of low spots I chose to leave until I saw how flattening the other side went.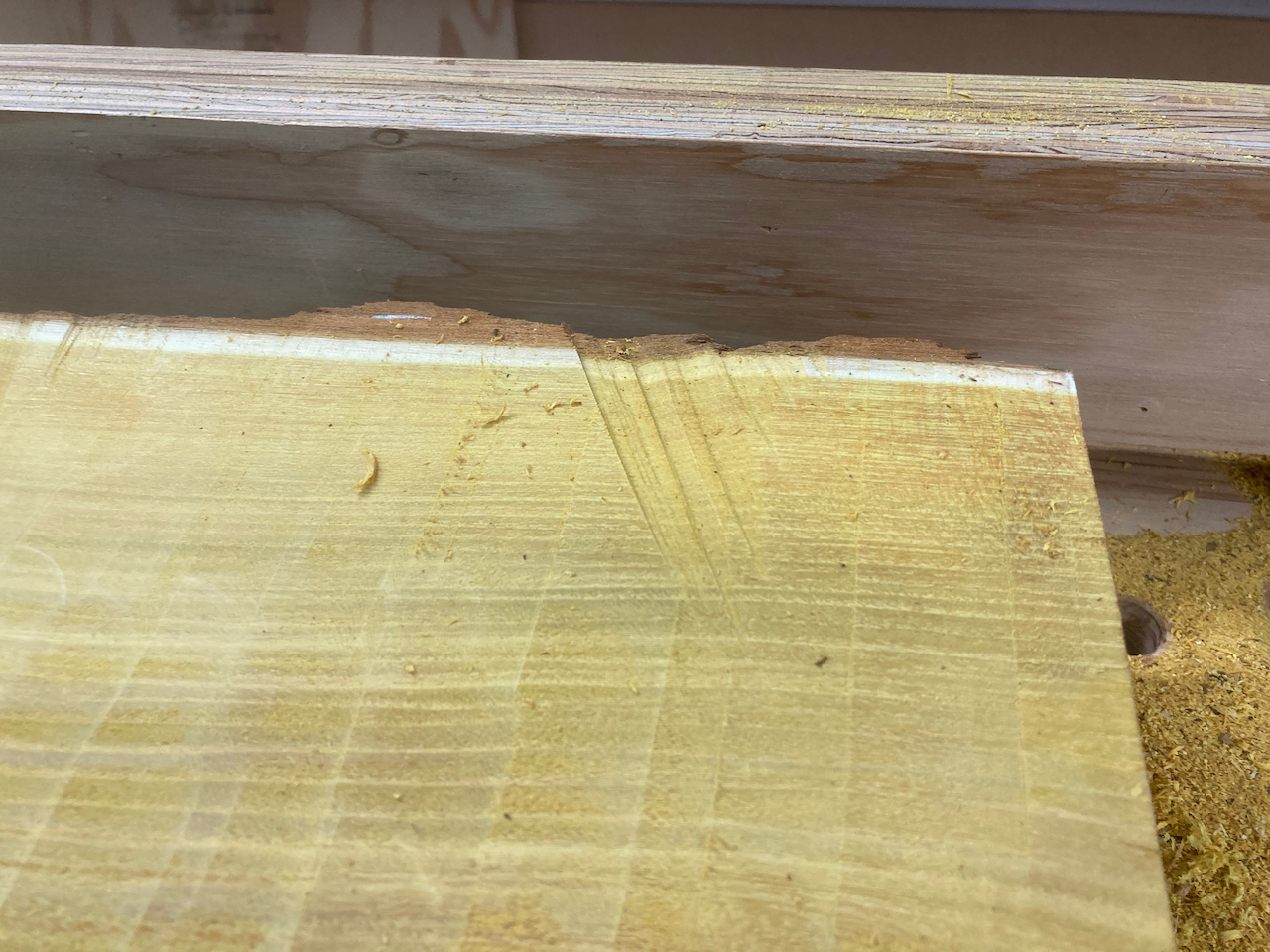 Low spot to the right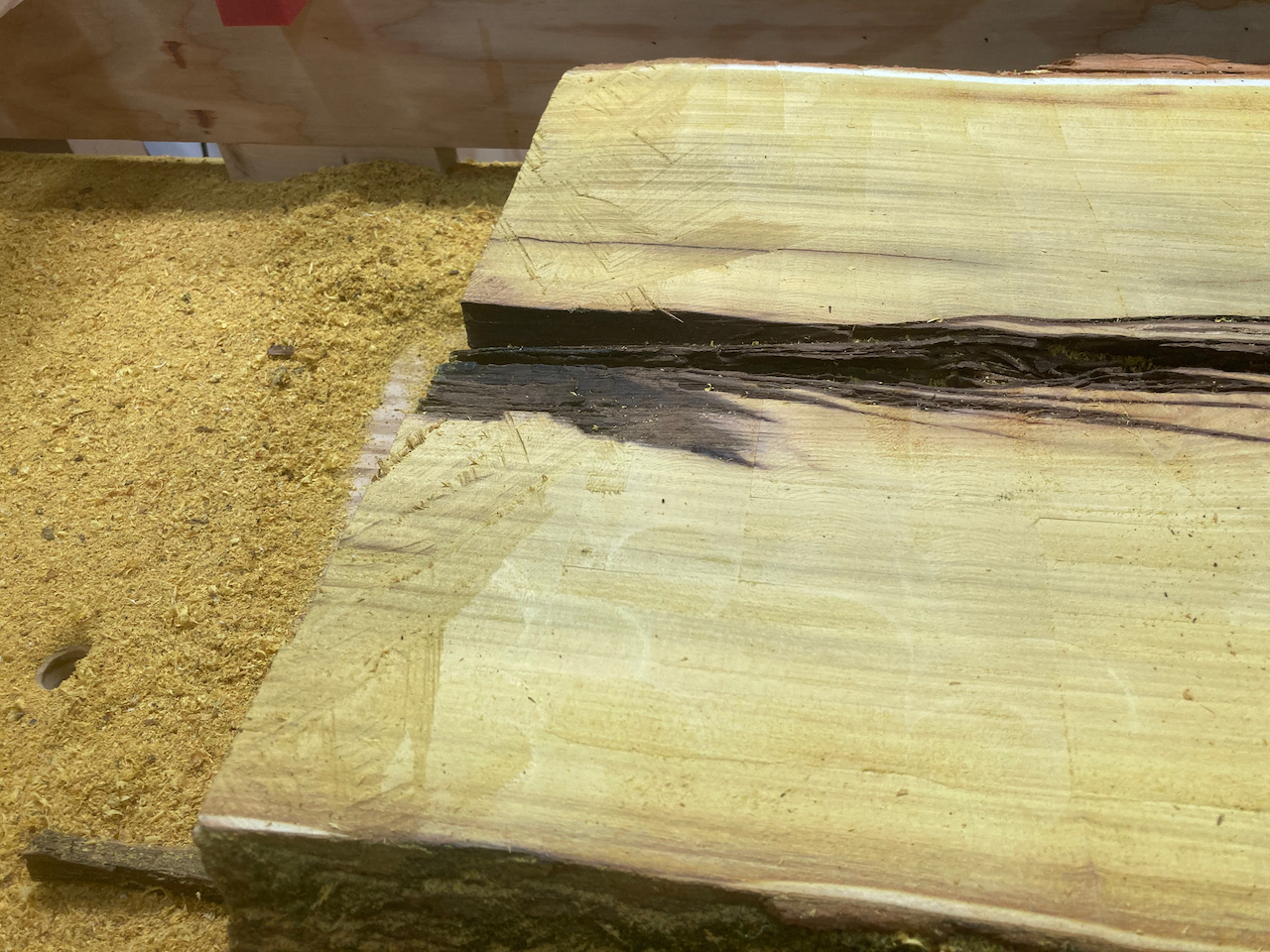 Low spot to the left
The other side was also rough from the chainsaw.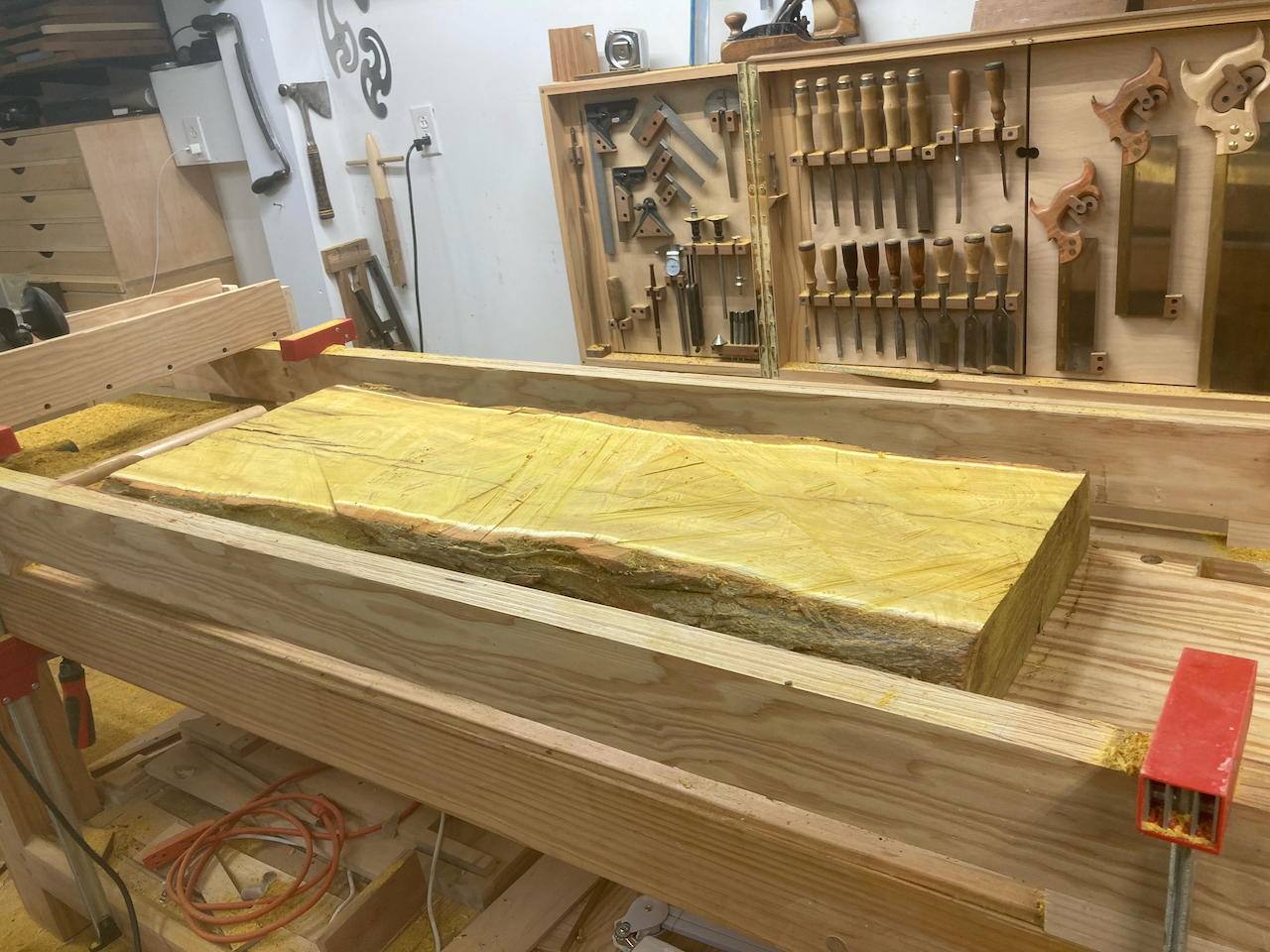 Second side, rough like the first
It flattend up quite nicely.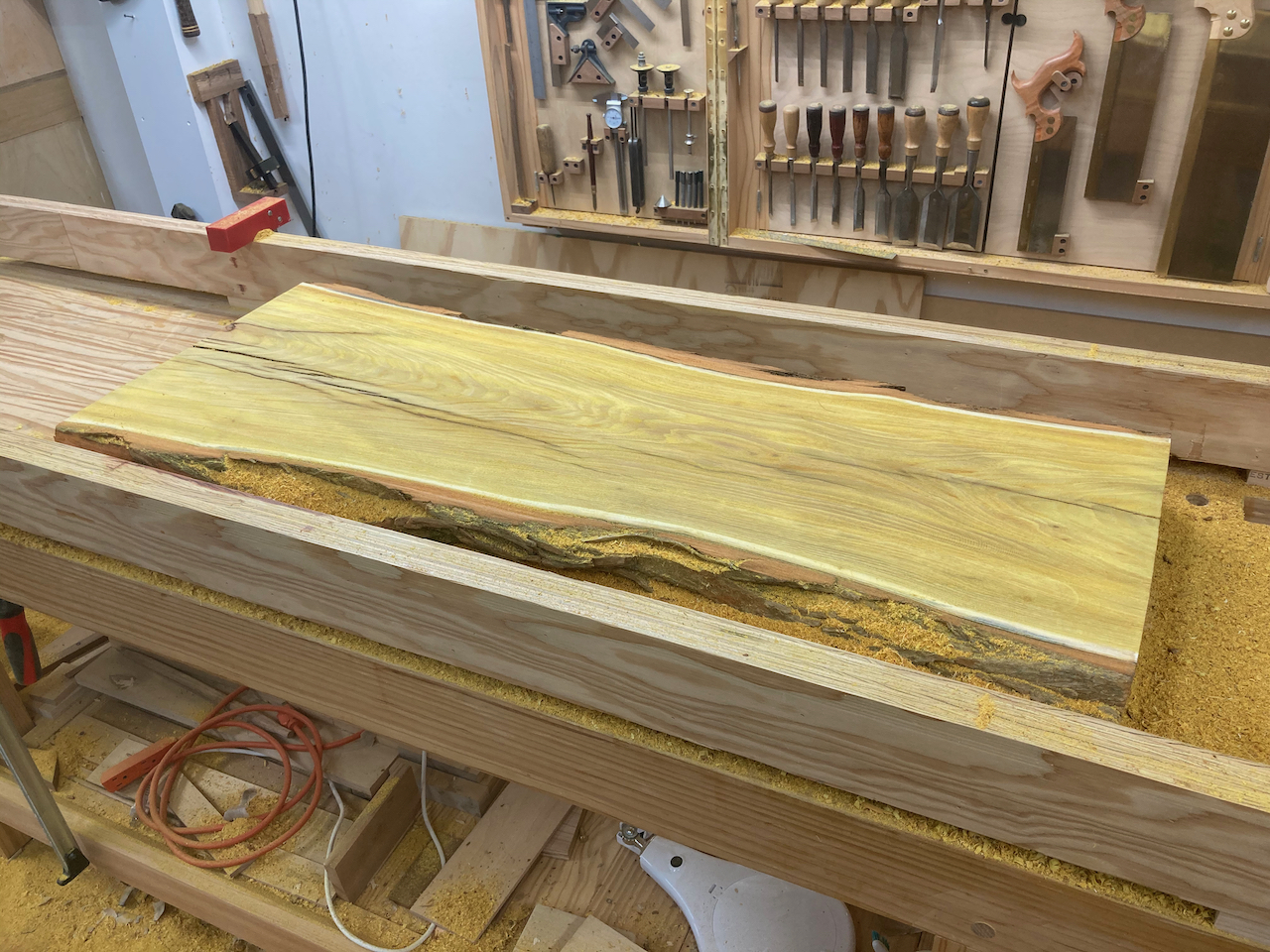 Second side flattened
So I went back and took out most of the low spots on the first side.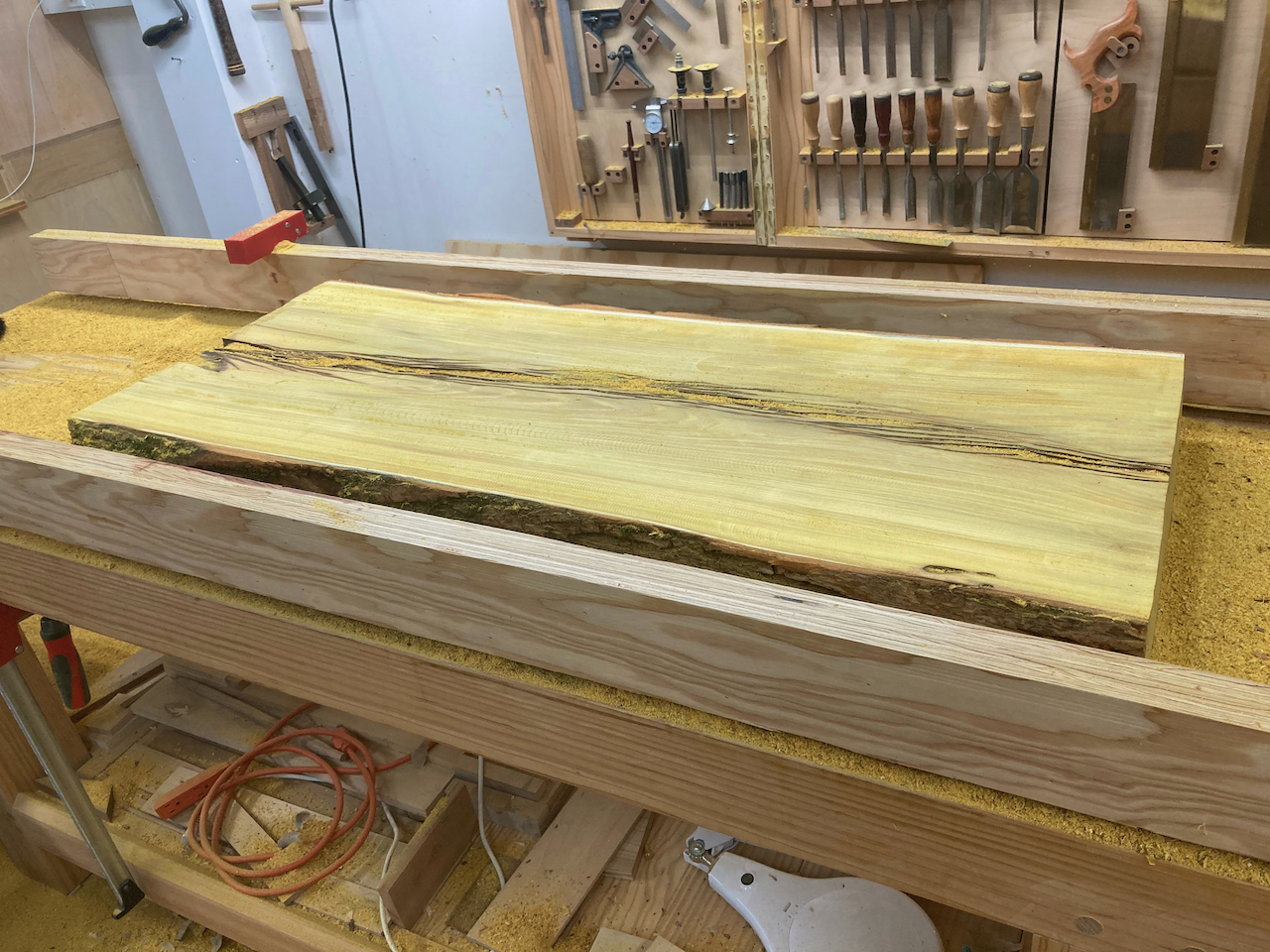 First side with low spots removed
I put the slab up on the rails to sit overnight. I checked it and it has about 30-35% moisture (yowza!) so I'm looking to see if it moves overnight. It's almost four inches thick at this point, which leaves me almost half an inch to take off as it dries and moves.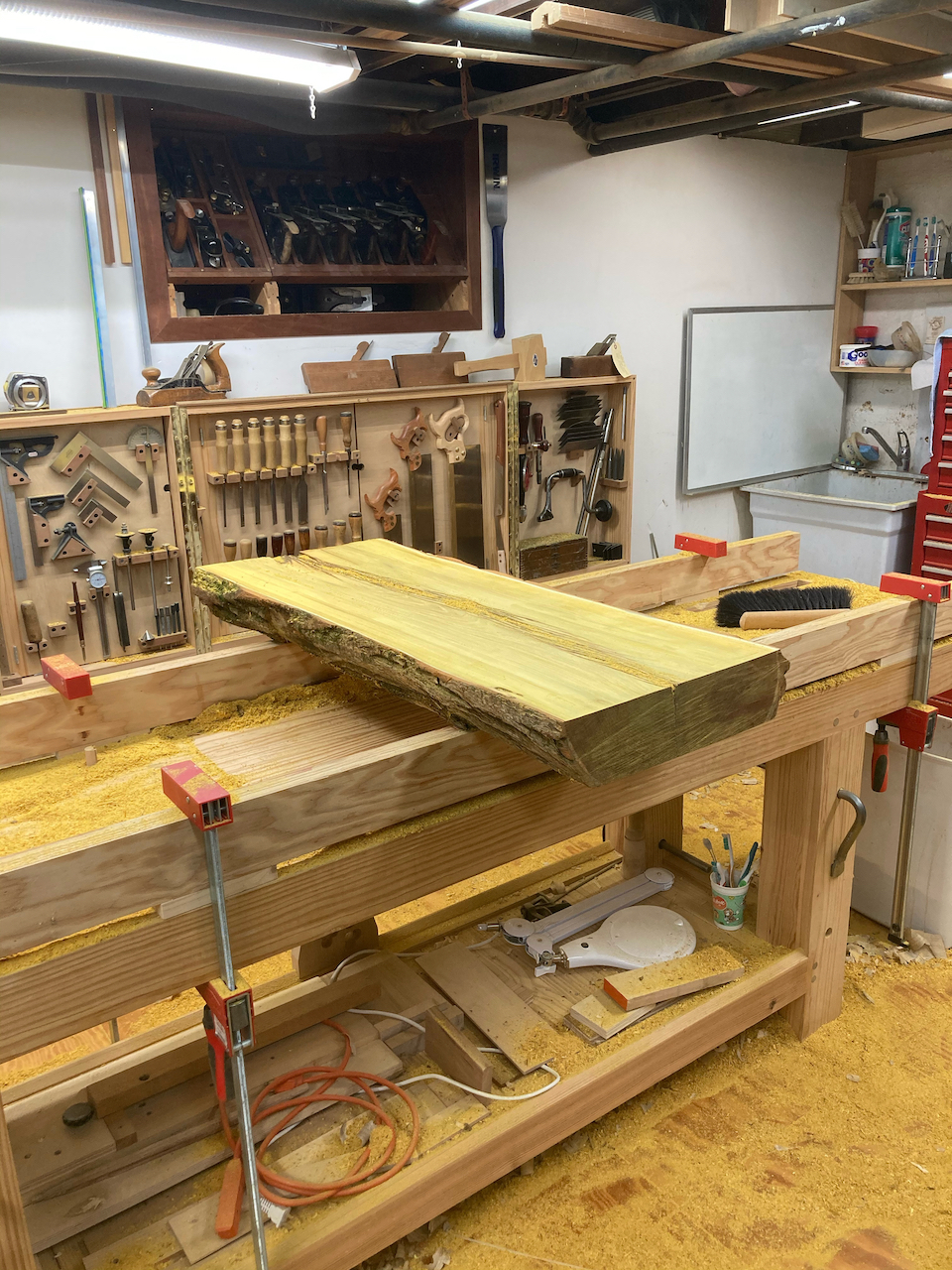 Slab resting
Tomorrow I'll check it and decide what's next. I'll probably add bowties to reinforce things and hopefully limit movement, just like I did with the main slab in the study. I may stuff it in a sheet to slowly dry, since the moisture content is so high. I may drill holes for holdfasts all over out the slab, since that's part of the final plan and hopefully will allow moisture to leave the slab more evenly and reduce the risk of cracks and checking on the ends, not to mention warping.
When you work with a big slab like this, you do your best and accept that it's going to do what it wants. Hopefully I've understood this piece of wood well enough and am working it in a way to end up with a nice 'lowrider' bench.