Shortly after my last posting, the COVID-19 pandemic swelled and became the One Big Thing™ everyone is dealing with, including myself. There is so much going on, so many impacts, and so many unknowns, I wasn't feeling like going to the workshop to do anything for a while. I'm now in a place where I can find some small bits of energy for my chair making efforts, though my primary focus is on my family, friends, and the broader world community.
Right after my last post, I took some time to section a white pine slab I purchased from Scott Wunder into five potential seat blanks. I thought I had a picture of the slab as a whole but apparently not. After carefully measuring and consulting my plans from master chairmaker Curtis Buchanan, I cut the slab into five sections and some offcuts.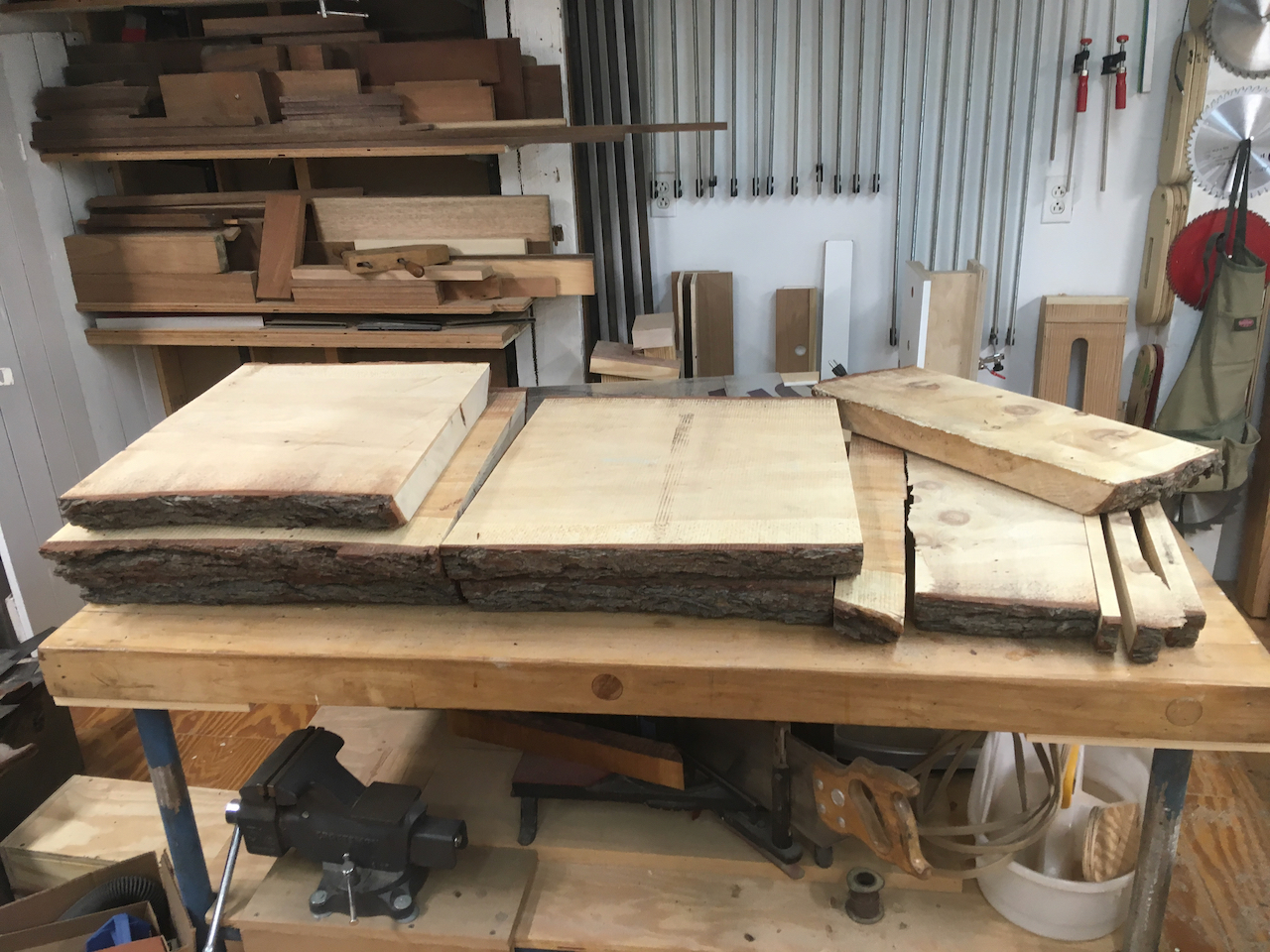 Five sections for possible chair seat blanks, with offcuts
Working with a large slab solo requires careful plannig and execution. Happily, I have a large panel cutting jig. I made this one within the last year or so to replace my original. The original served me well for over fifteen years, but had finally seen better days. I didn't need to replace the infeed support table I made, which allows for handling stock that is both long and wide, like a slab of white pine more than 20 inches wide.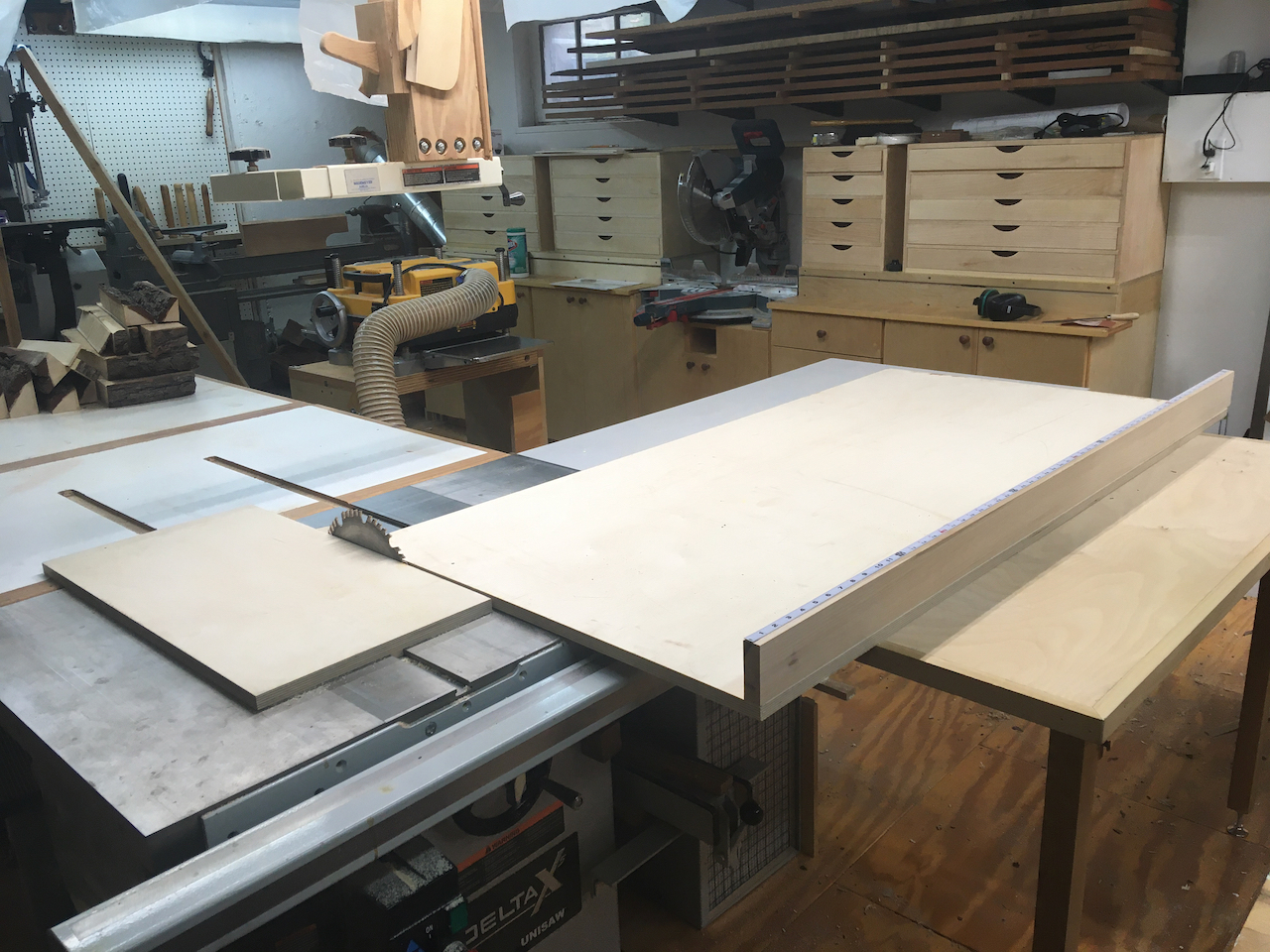 Panel cutting jig and infeed support table
Since I sectioned the slab a couple of weeks ago, the impact of COVID-19 has dominated life, and I haven't really gotten into the workshop much. I did find one evening to do some sharpening, but found that with everything else going on I just didn't have the mental energy to invest in woodworking. My thoughts and energy were for my family, the situation, and maintaining my health, where T'ai Chi is a huge help.
But today after blueberry muffins, family time, and chores, I found myself with some time and enough energy to get into the shop. Working with slab material, especially rough cut material with the bark still on it, is messy. So I decided to finish making rough chair seat blanks. This involved using my panel cutting jig to rip the bark off the sides of the slab chunks.
The wonderful thing about my panel jig is that you can tune the location of your cuts very precisely, even for thick material, and it is a huge help in making the process safe. One downside is that the slab sections were thick enough that I couldn't cut off each edge in one pass. They were too thick for the saw blade to cut completely through them.
Since the sections were not flat, I used shims to support corners as needed while making the two cuts to remove each side.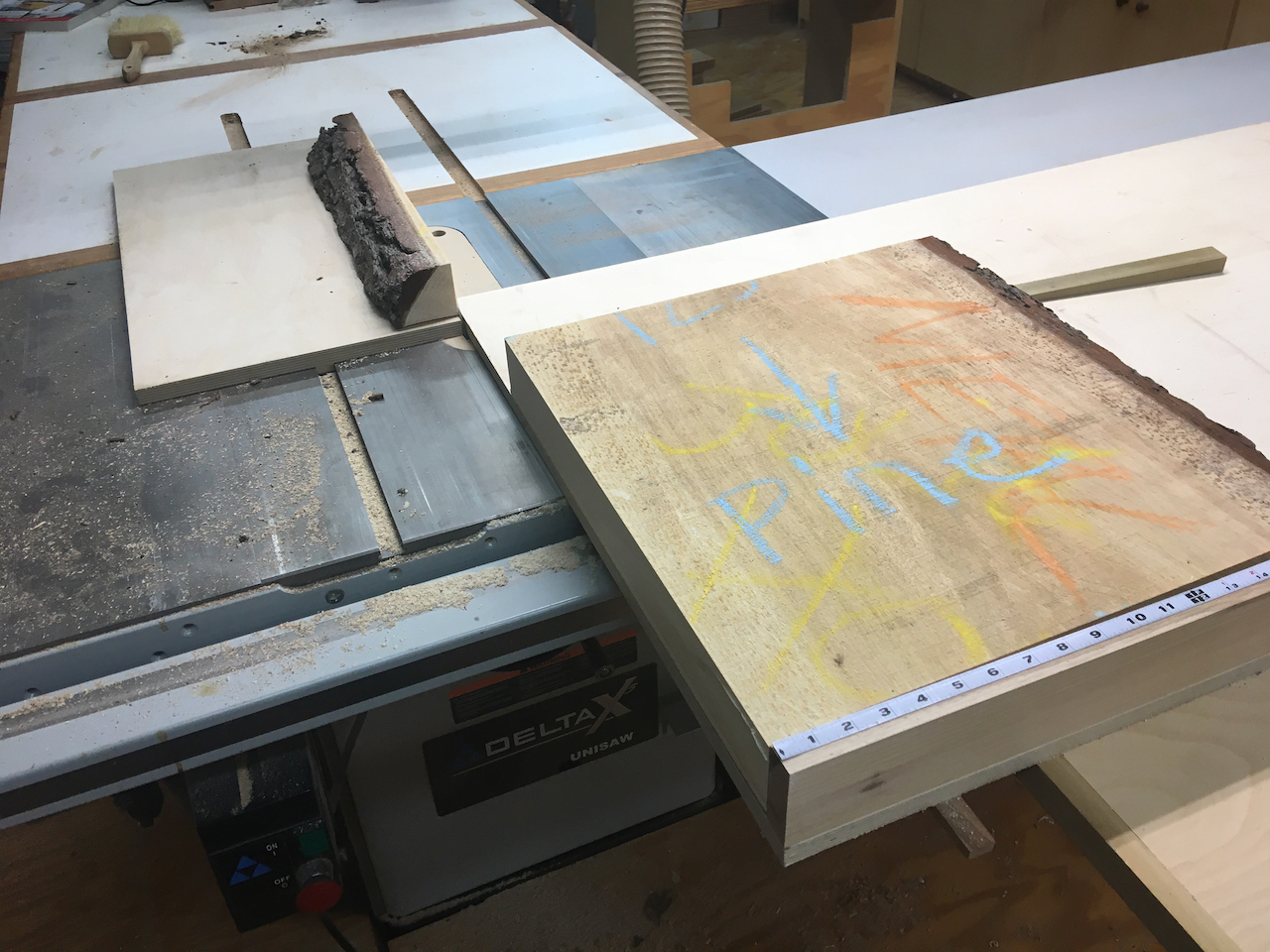 Slab section with one edge removed
The fifth section is probably too short to make a chair seat, so I set it aside to assess after I've made a few chairs and know better how to judge. This left me with four rough seat blanks. They aren't yet flat, and are too thick, but that means I have opportunities for future "workshop workouts".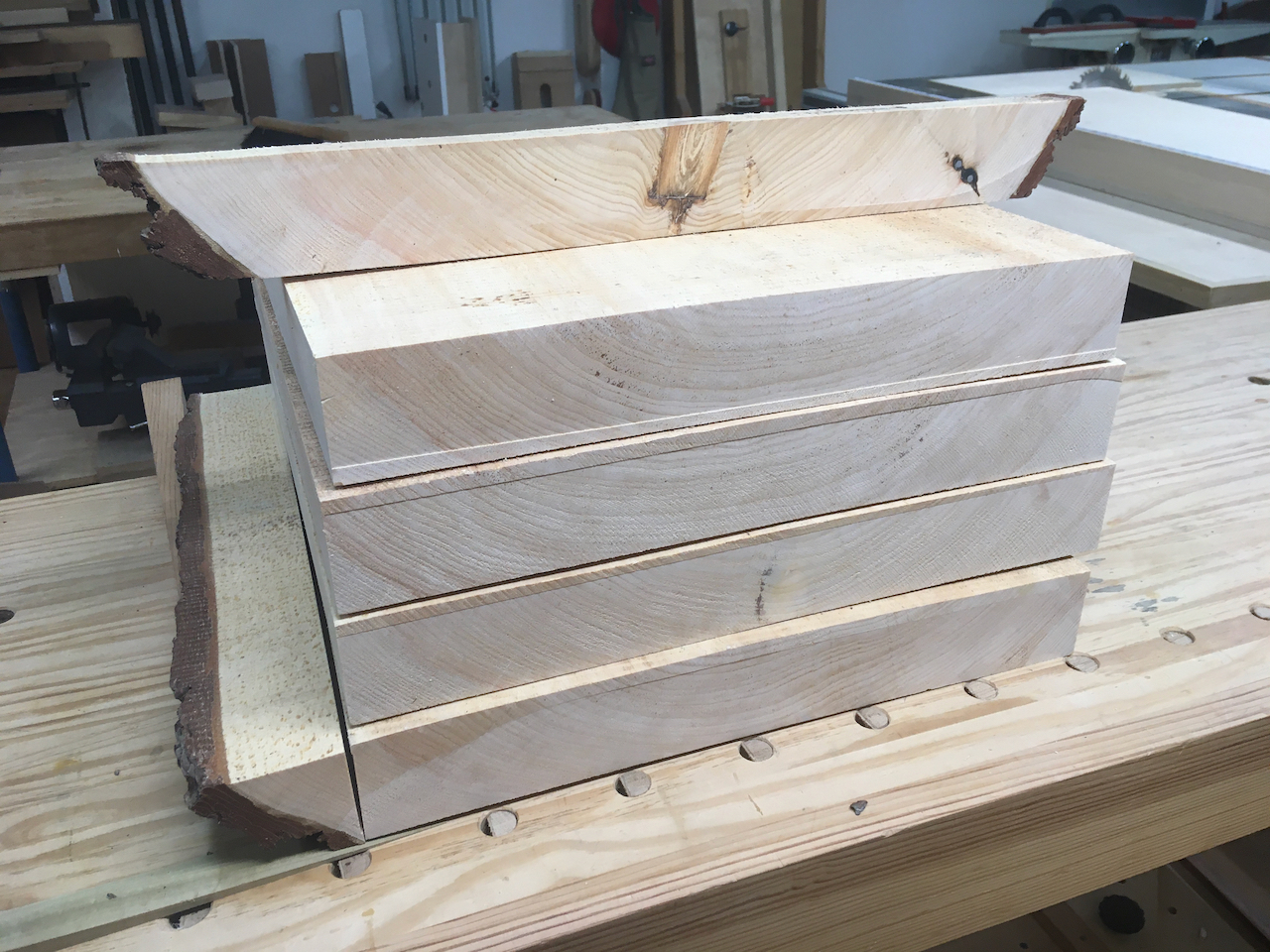 Four rough chair blanks stacked, with a removed edge alongside and a full width cutoff strip on top
The small strip on top gives a sense of what the slab sections looked like before I ripped the edges off.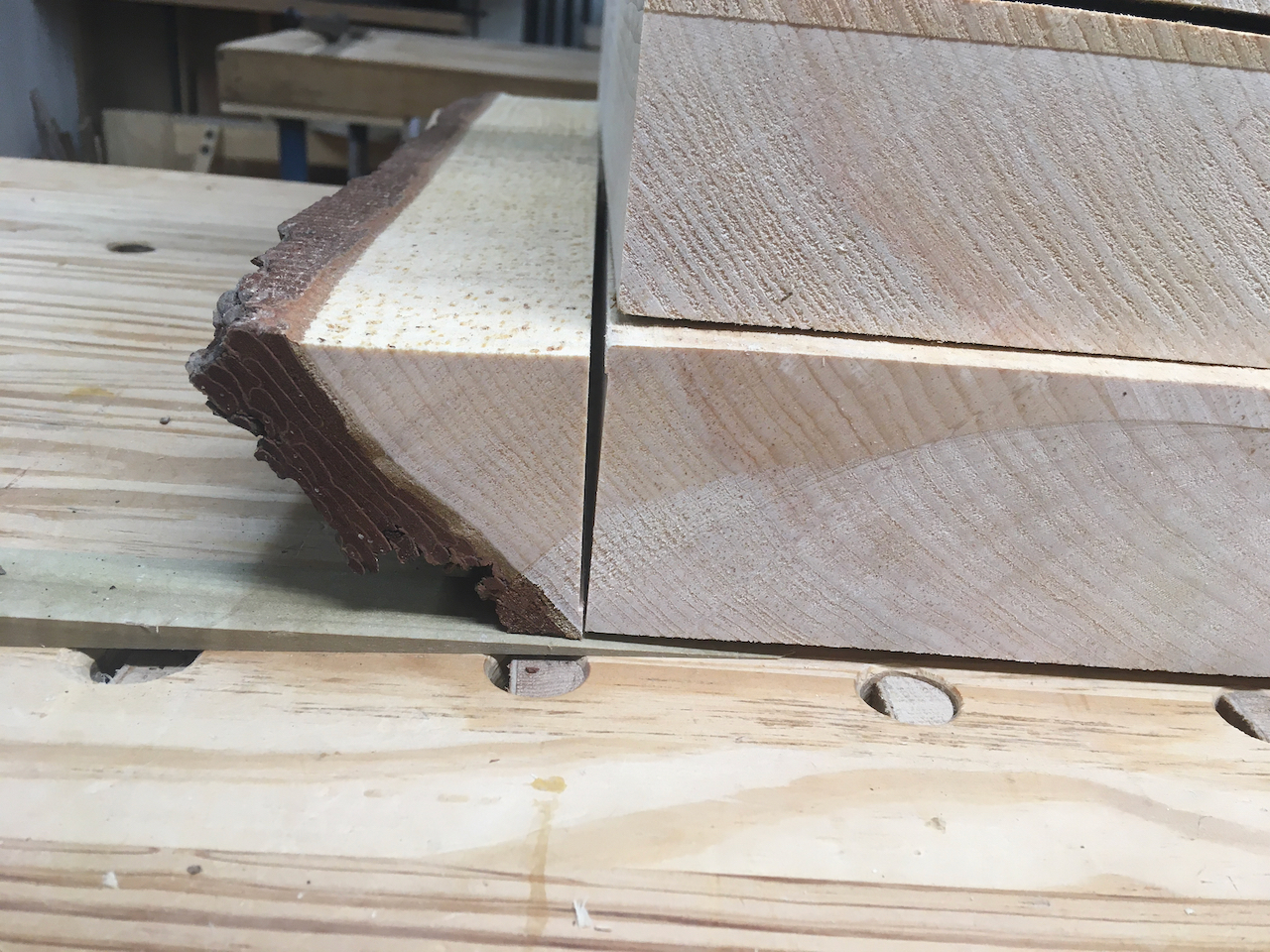 An edge beside the blank it came from
The small strip at the top also shows one of the hazards of working with locally sourced slab material. There was metal in the slab.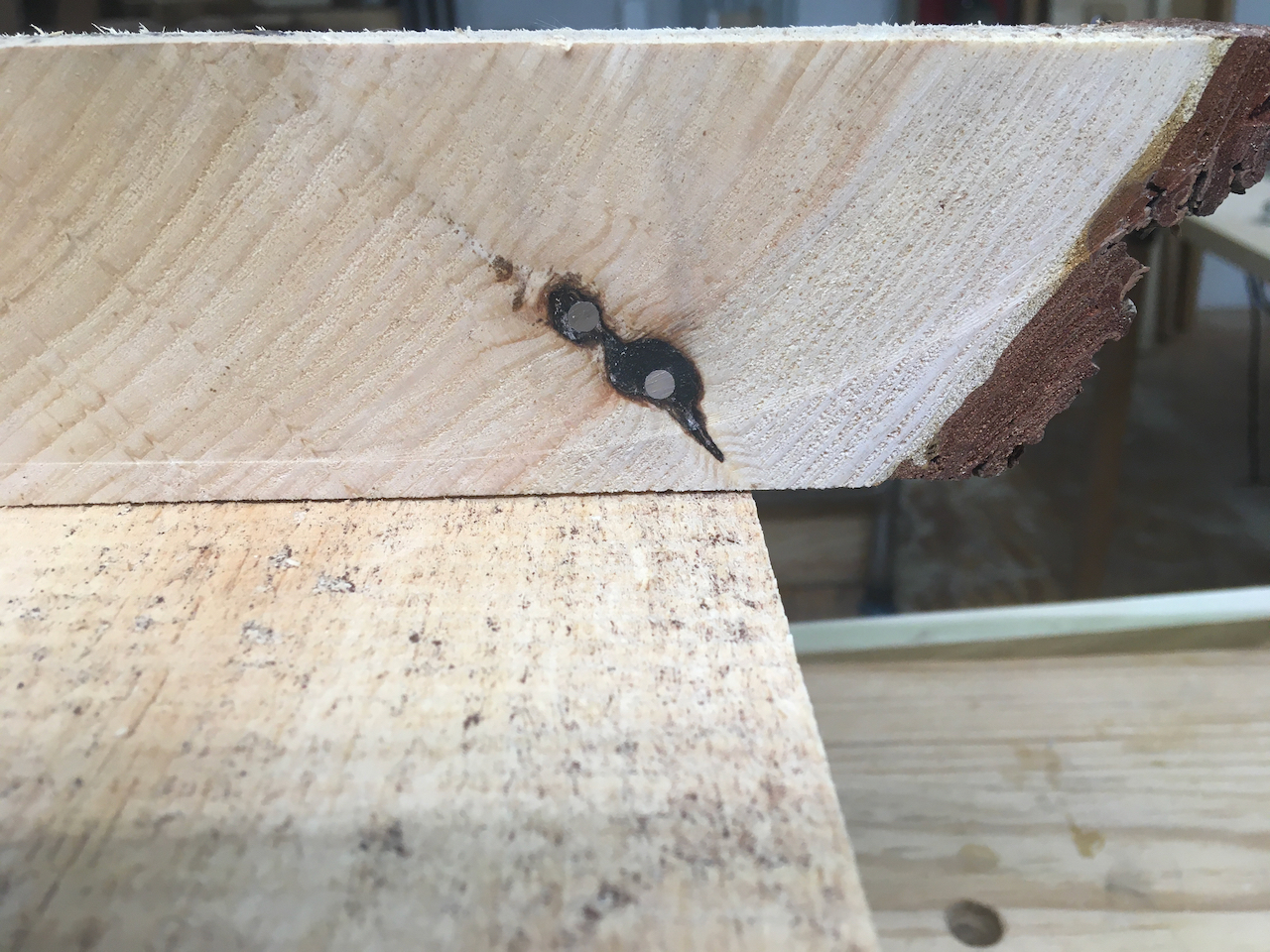 Metal in the slab
I have some additional sharpening to do, but after that I am ready to try making a chair, at least when I have the time and energy to put into the learning.
Wishing everyone health and safety in these uncertain times.